We are close to lockdown ending and restrictions easing. Do you remember the chaos last year when the 1st lockdown was eased? 
People flocked to the countryside and in many cases, they were ill-prepared, cared little for the environment and were ignorant of the countryside code.  Car owners parked in inappropriate and dangerous places.    Of course, people want to get out and so they should. If you are planning days out or short breaks to one of our many beauty spots and national Parks, perhaps even your 1st holiday in the UK! It is true some individuals have never holidayed in the UK and know very little about its countryside.  With so many people suddenly finding nature! (widely reported in the media about how good this is) there is a problem. I have noticed in our local parks that wildlife is not so visible because of the increased numbers visiting daily.
"In the Peak District, rangers were soon dealing with three main problems: litter, fires and parking disputes." It seems that many of these problems were caused by younger adults, who ironically have had some education concerning the countryside and the environment. 
This year – "We're definitely expecting it to be very busy," said Hind. "Through the course of the summer, we'd expect there to be a staycation effect as people look to stay in the UK. Some of our tourism businesses that run self-catering accommodation say they're booked up right through to the end of the year." https://www.theguardian.com/environment/2021/mar/28/staycation-invasion-national-parks-seek-relief-from-chaos-of-last-summer
"In a normal year, the Peak District spends £38,000 picking up litter; this year Fowler expects to have shelled out double that. It's a lot for an organisation covering an area of 555 sq miles (1437 sq km) which has a budget smaller than some secondary schools (£6.7m this year). https://www.theguardian.com/environment/2021/jan/01/the-litter-was-a-shock-2020-covid-rush-on-uk-national-parks
"The Country Land and Business Association (CLA) said an influx of people walking over planted crops was affecting farmers' businesses.  One farmer said there had been a tenfold increase in walkers during the lockdown, while another had seen a 5ft (1.5m) path widen to 36ft (11m) across."  –  https://www.bbc.co.uk/news/uk-england-55712672
You may have noticed yourself people walking along muddy paths with their best trainers on! Buy a pair of wellies and stay on the paths. It is so sad that some people just do not care.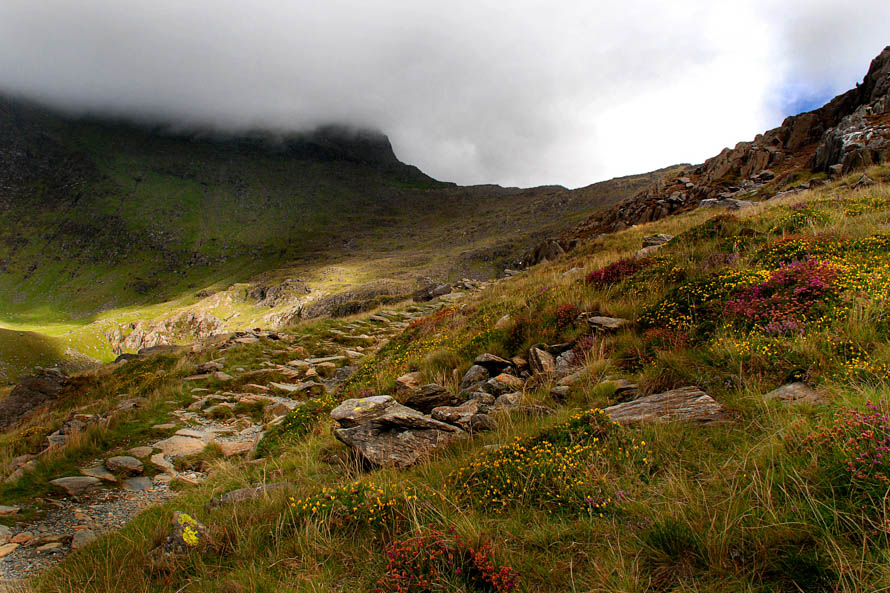 Mount Snowdon from the Watkin Path.
THINK!
Think about the local communities.
Think about your dog and what you let it do. (some farmers will shoot your dog if you let it harm sheep and cattle). Cattle will charge sometimes, several people have been killed in this way recently. A kick from a cow will seriously harm or kill your dog.
Think about where you walk and the wildlife, including plants around you. 
Think about what harm your litter might cause if you just leave it behind, especially to birds.
Think about the noise you make you may scare some wildlife into leaving the area. Learn about the countryside code. – https://www.gov.uk/government/publications/the-countryside-code
Learn about safety on hills, mountains and cliff walk. 
Wear the correct clothing, If you plan on walking up Mt. Snowdon flip flops are not suitable.
Always take water with you.
Remember some areas have VERY poor mobile signals and your precious phone will not work. 
I suspect that now if you park badly the police will remove your car!   As in all things in life, if you abuse something in the end it is taken away or worse still it is destroyed.
For more detail read these:-
https://www.paulcrotty.co.uk/walks/walking-hill-and-mountain-walking/
https://www.paulcrotty.co.uk/walks/coastal-paths/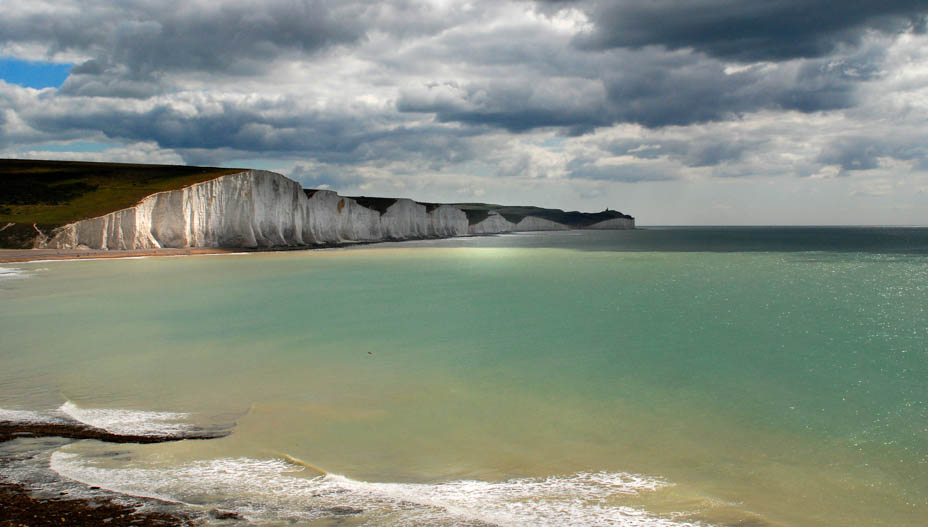 The Seven Sisters Sussex.
Our great country is full of beautiful scenery and a place to enjoy nature in all its forms. Please do be considerate and think about your impact on the environment.
Paul