In the late 80's early nineties I had some flying lessons at Sywell Aerodrome Northampton. Personal computers were then still at a very early stage, especially in graphics.  Meanwhile, I and my son had a keen interest in aviation, visiting a lot of air shows across the UK. Twice we went to the Royal International Air Tattoo for a whole week. Alongside that we played! on those early versions of flight simulators with wireframe graphics and minimal controls, using a Commodore Amiga Computer.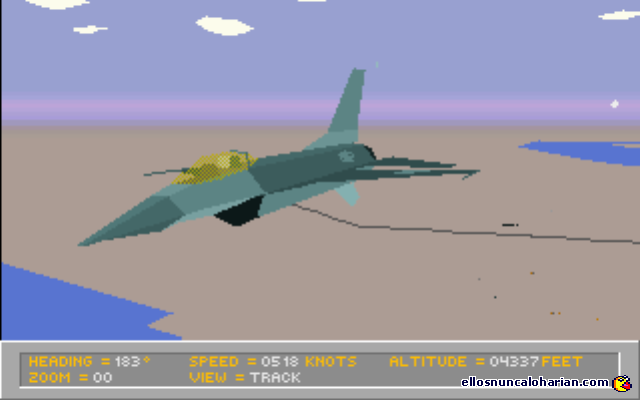 Slowly but surely computers became more powerful and the games better and more realistic. I think our 1st Microsoft simulator was Version FS95 became even better with a texture-mapped runway, aircraft, and sky, and high density of 3-D buildings. (But, not many of them)   Of course, we also played combat simulators alongside Microsoft Flight Simulator, Microsoft Combat Simulator and a very good simulator (for the time) centred around a Euro fighter based in Norway.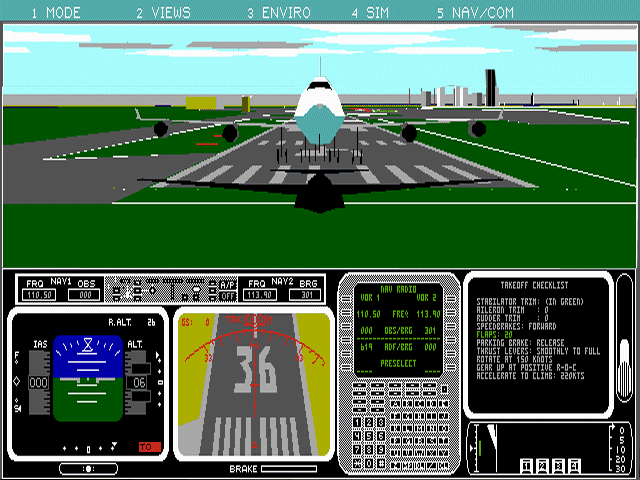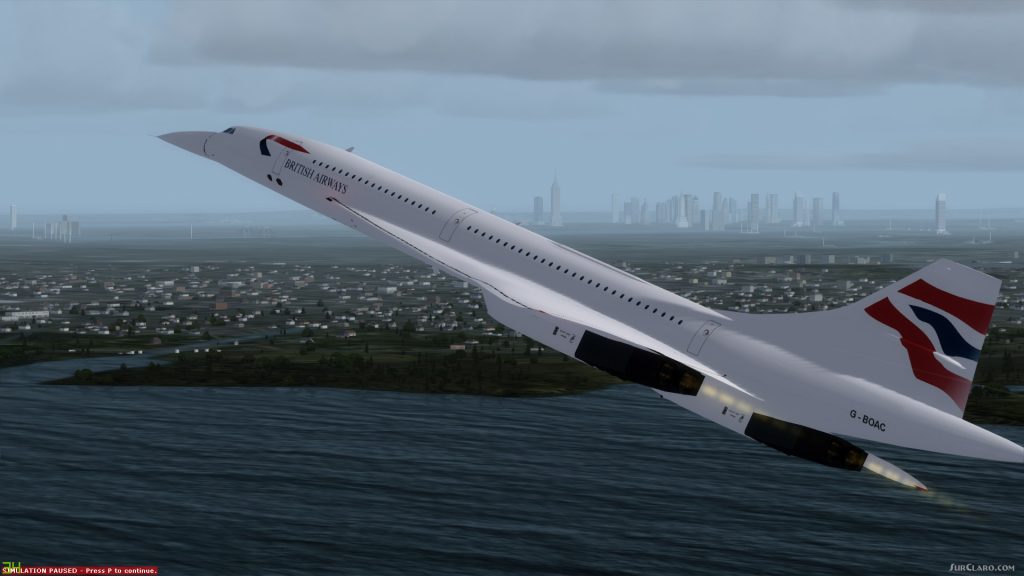 Microsoft Flight Simulator 2000 – Concorde over New York !
"A flight simulator is a device that artificially re-creates aircraft flight and the environment in which it flies, for pilot training, design, or other purposes. It includes replicating the equations that govern how aircraft fly, how they react to applications of flight controls, the effects of other aircraft systems, and how the aircraft reacts to external factors such as air density, turbulence, wind shear, cloud, precipitation, etc. Flight simulation is used for a variety of reasons, including flight training (mainly of pilots), the design and development of the aircraft itself, and research into aircraft characteristics and control handling qualities.[1]"      Source: –  Wikipedia
To read more detail about the development of flight simulation follow this link.
Flight simulators at the level of X-Plane are highly sophisticated programs using mathematical models to allow you to fly your plane in the computer generated world. The need to run many simultaneous calculations demands the need for a powerful computer
Note: This is not a detailed overview of simulator development and does not cover many of the simulators available or that have been available. It is however an overview of my experience of them and maybe you to will become interested. Simulators are now so good that you can officially log hours towards a study program and eventually a career in flying or services related to flying.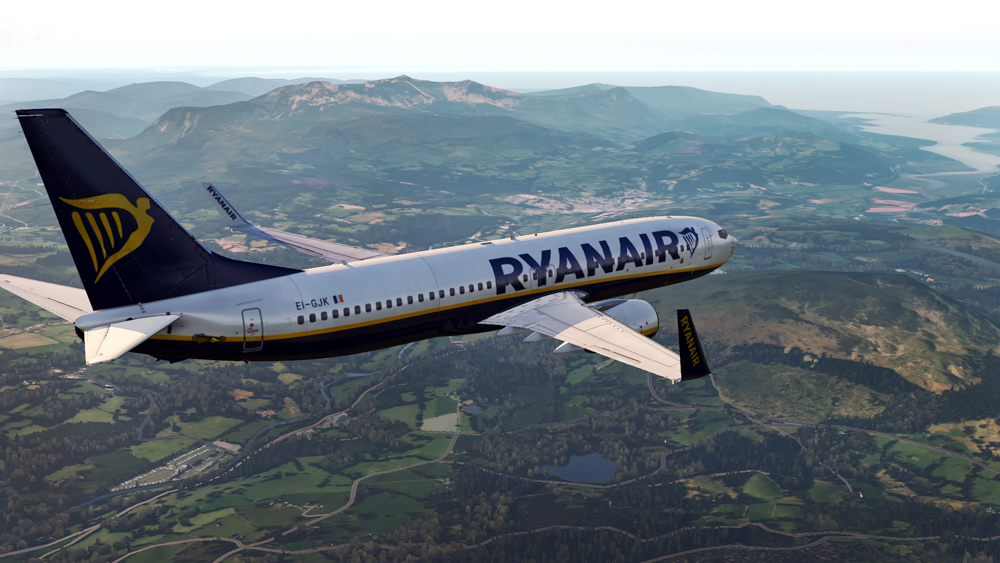 Boeing 737 flying over Snowdonia with Orb X Scenery. The terrain detail is very good.
Mention flight simulator and many people will instantly say "game". Believe me, the good ones are very much not games and can mirror reality very closely should you so wish, however, the simulators will behave like a game if you choose.
Equally many people see no reason or benefit to 'playing' computer games and consider it a waste of time. They are wrong, a person can and does learn a huge amount by 'playing' these so-called games. You certainly need to be literate, organised, be able to follow instructions, have good maths, be able to concentrate for long periods of time, understand certain physical rules and understand how planes (each is different) react to the physical rules of the world.
https://www.grc.nasa.gov/www/k-12/UEET/StudentSite/dynamicsofflight.html
Out of need! I learnt how to manipulate the graphic environment and build scenery or adjust it. Some understanding of code is needed, and I am sure that some people starting by designing scenery for example have gone on the become software engineers.  You can be certain that simulator users have gone on the be real pilots, air traffic controllers or working in the aviation industry.
Because of our using a Flight Simulator at home my son at that time wanted to become a pilot and so joined the air cadets and was also taking flying lessons at Sywell.  If you believe for 1 minute that you or your child are interested in aviation or a career in aviation then you must get a flight simulator. Going back to my son, at an air cadet weekend at RAF Cosford he got top of the class in the flying module probably because of his many hours using the simulator at home.
Meanwhile, in the background, a simulator called X-Plane was developing. I now use this very simulator. It is the preferred simulator by real pilots. As you can imagine the graphic experience is very good. However, you do need a high-quality graphics card, with a fairly current PC or Laptop or an X box of course.   Running flight simulators on laptops, tablets and mobiles is not really an option, The bigger the screen the better. But, I know some people do use laptops especially, and enjoy doing so. For some, it is the processes, not the realism that is important.
For example, I tend to fly! the Zibo 737 800 in X-Plane, you can start on the runway engines running or you can start from cold at the gate, create the flight plan on the FMC, interact with the airport and air traffic control. pretty much modelling the real-life situation. Some individuals take it even further and fly! for virtual airlines. You might also use real-time weather and navigation data whilst flying around the planet with other online users.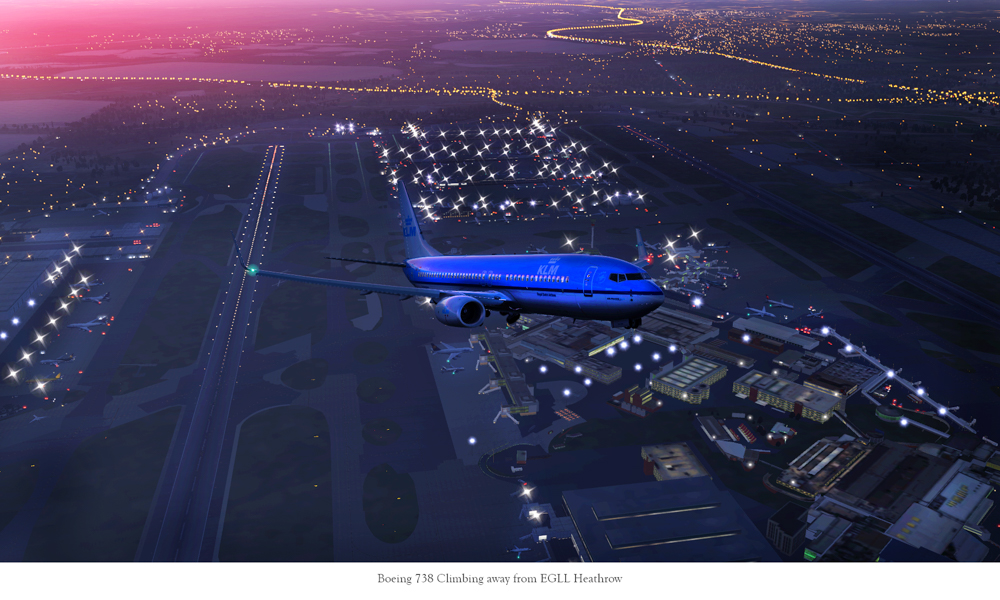 Me flying!  – Taking off from Heathrow EGLL flying to Paris Charles De Gaulle – LFPG.  At this point cleaning up the plane and engaging autopilot.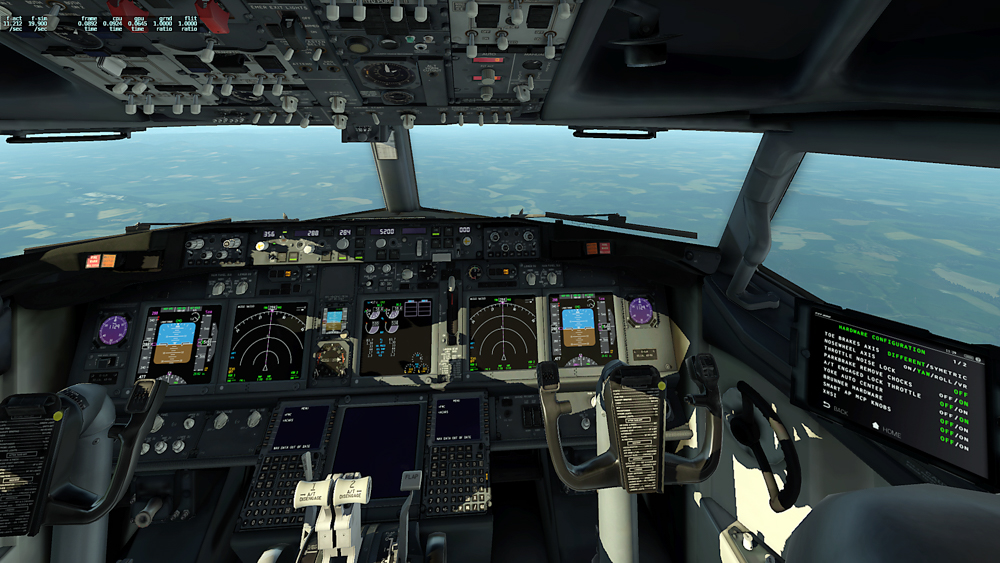 The cockpit of the Zibo Boeing 737, almost every switch, dial and button actually function as does the FMC.
Professional simulators.
You can now of course visit one of the flight experience simulators around the UK. I have used one and in some ways it was great, in others, I was a little disappointed. It did not feel that much different to my home setup. Of course, it modelled the cockpit of a 737 identically and that was important. I did fly! the plane ok and landed at Heathrow successfully (ish). I am pleased that I did it and I did learn something.  Some are probably very much better than the one I tried, especially the motion versions.  So for a few hundred pounds, you can very close to the real thing.
Current Flight Simulators
X Plane  –  https://www.x-plane.com/
Microsoft Flight Simulator –  https://www.flightsimulator.com/
Combat Simulator
DCS – https://www.digitalcombatsimulator.com/en/
* I have not used this simulator but it looks very good and can be very difficult to use.
Minimum system requirements for a current (2021) simulator
CPU: Intel i5 9600K.
RAM: 16 GB.
OS: Windows 10 64-bit.
VIDEO CARD: NVIDIA GTX 1050 Ti.
PIXEL SHADER: 5.1.
VERTEX SHADER: 5.1.
DEDICATED VIDEO RAM: 2 GB.
STORAGE: HDD.
However, these are minimums and in reality, you need more!!
A Typical Session for me, probably a few hours.
The world. –  Choose the departure airport and time of day (it could be real-world time)
Scenery – If required alter scenery settings which will affect sim performance, frame rates in particular
Weather – Choose what weather will be like or use real-time weather
Virtual Aircraft – Decide what or any virtual aircraft and what type they will be.
Planes – Choose which plane you wish to fly and add some basic settings or leave that until the start-up procedure.
Flying – Here your options are endless. You can place your aircraft at the end of a runway with engines running and everything operational. Forget air traffic Control, and simply fly around. At any point, you can exit the program or just crash the plane intentionally or otherwise.
Alternatively, with practice you can place your plane at a gate, go through a cold start procedure operating the correct switches and buttons in the absolute correct sequence, Program the FMC with your flight plan, file the plan. Contact  Ground control. Request Push Back ( a truck appears and hook up to push your aircraft back) Meanwhile you are starting the engines in turn. Having received taxi instructions taxi to the required runway, following any directions to hold etc. At the runway pass to Tower,  on the instruction line up and take of. After gear up, clean up the aircraft and set autopilot and or follow air traffic control requests.   Fly your route and reverse the process to land and taxi to your assigned gate.
So a flight of this sort can take a few hours to fly! Heathrow to Paris. Seven or eight to fly to New York JFK (I have done it! with my son, In Concorde, by the way, 5 hours).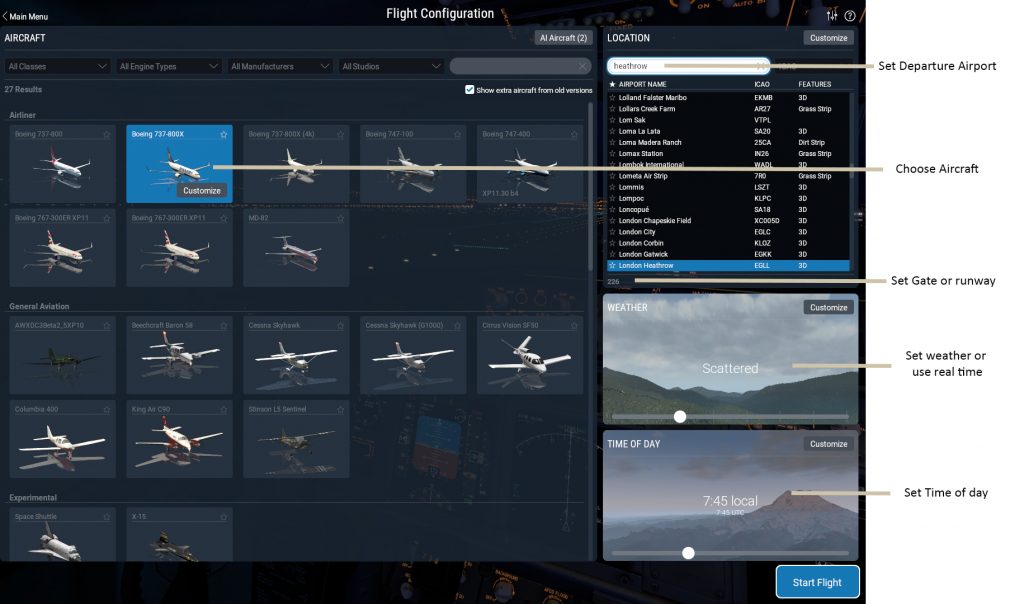 The setup screen for Xplane 11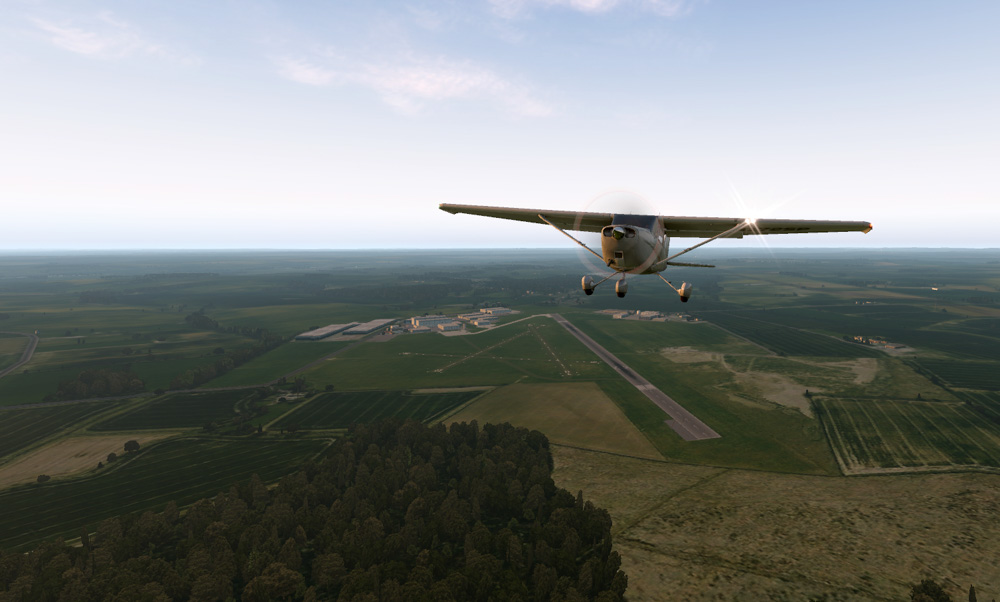 In this screenshot, I am taking off from Sywell Aerodrome in Northampton. If you know this airport the airport is quite well detailed. 
Set in the heart of Northamptonshire, Sywell Aerodrome boasts one of the best General Aviation Airfields in the United Kingdom.