Day trip to London
23rd June 2021
The weather outlook was good so I decide to make my 1st trip to London since 2019 and the beginning of the Coronavirus Pandemic.  The pre-booked rail tickets cost £28 return. On the day I catch a local bus to Castle Station for the 11.05 train. Once on the train, I am the only person in the carriage and it remains that way until Berkhampstead. By the time the train arrives at Euston station at 12.18 there are a few people on board.
 To start the day I walk out of the station and turn right along Euston Road past London University College Hospital. The traffic is heavy but moving, usually, this road is gridlocked.
The next building of interest is the Royal Academy of Music quickly followed by Madame Tussauds. Now Turn left into Baker Street which is in fact the A41. Turn right on to Oxford Street and a  brief walk to Hyde Park near Speakers Corner.  Hyde Park is very quiet, nothing like you might expect it to be. I decide to sit in the sun for a while and have a snack and a drink to charge my batteries up. I slowly make my way towards the Wellington Arch area to be able to cross into Green Park after walking past the Iconic Hard Rock Cafe on Piccadilly that I used to visit so much in the '70s and '80s.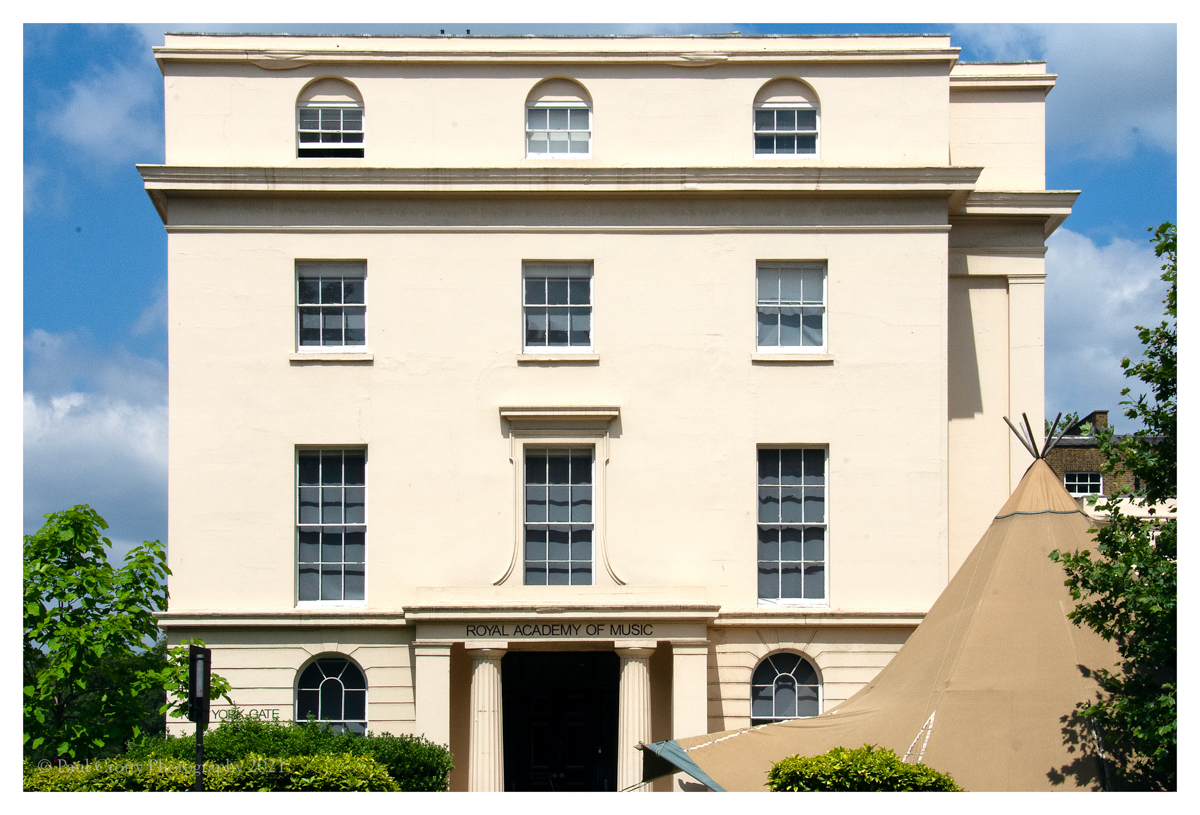 The Royal Academy of Music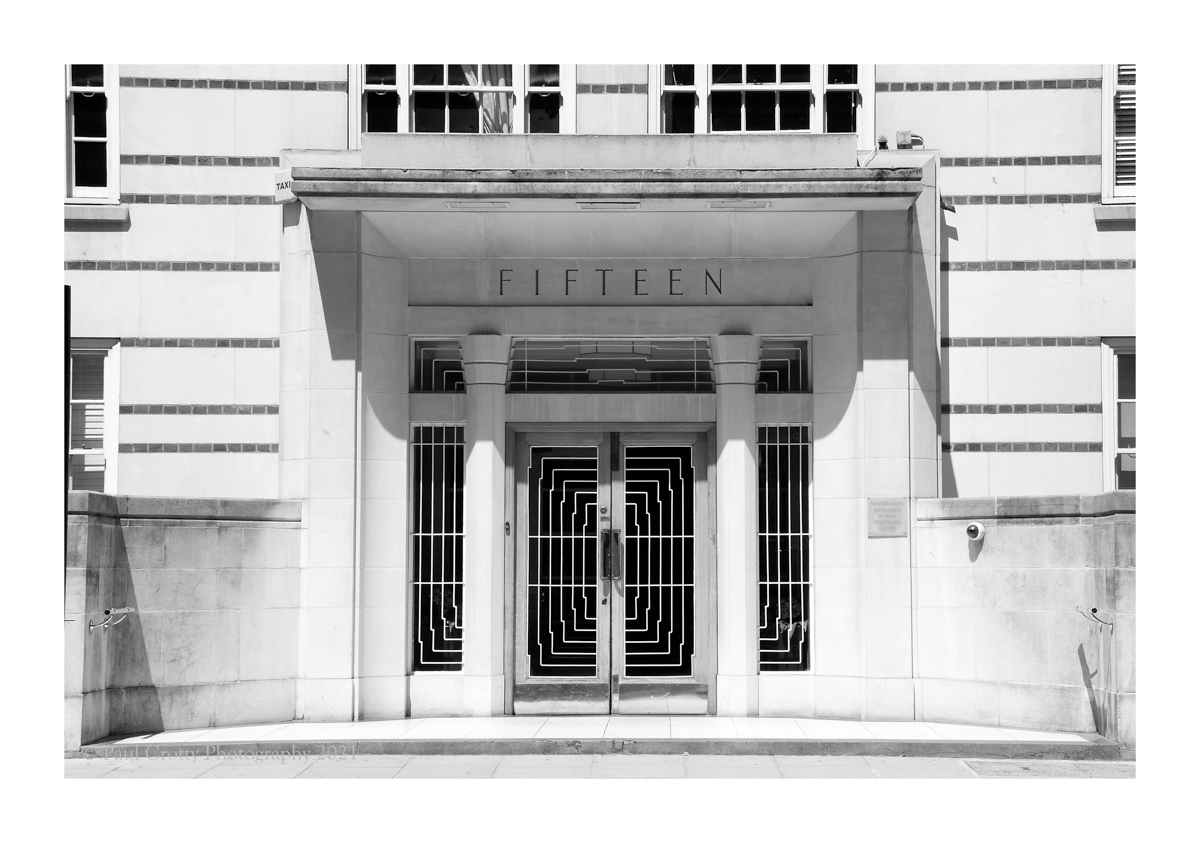 Beautiful Art Deco frontage to a Building near Baker Street.
Hyde Park – Normally busy with people relaxing, walking and exercising.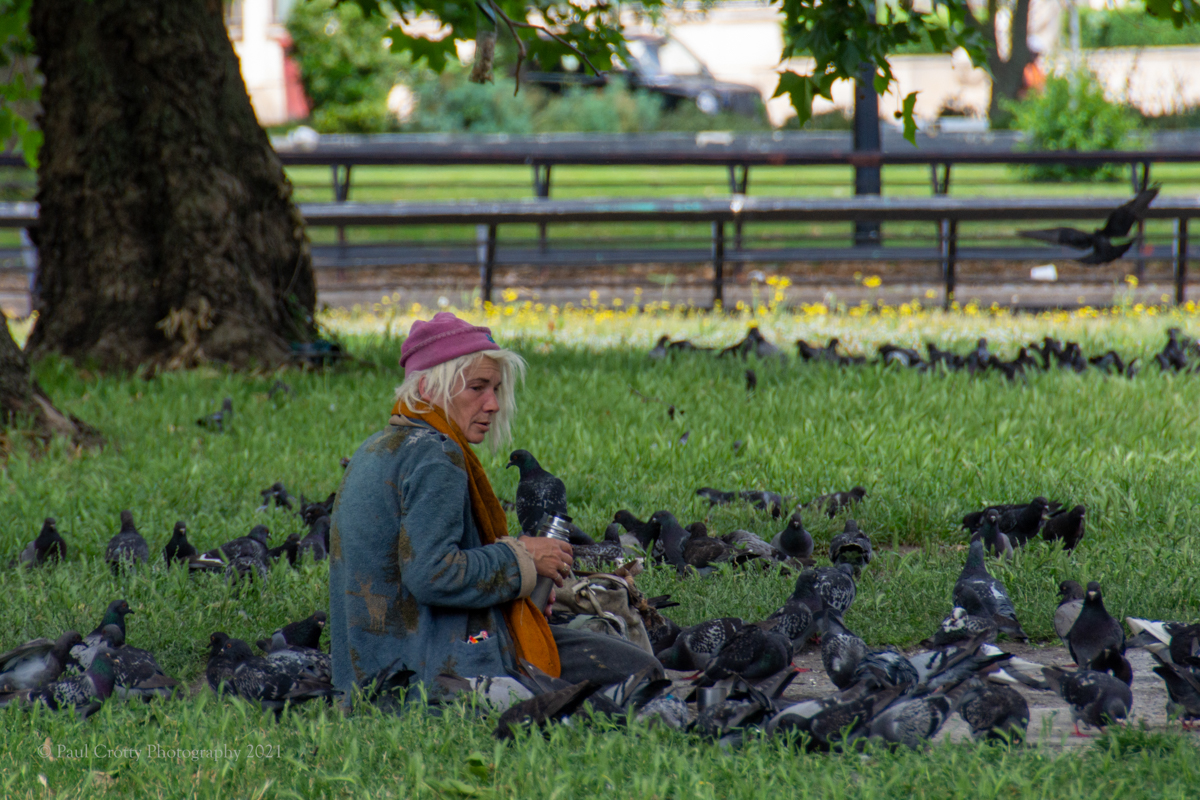 As I pass the end of Hyde Park, in one of the central islands, a lady sits surrounded by pigeons.
 In Green Park is a large herd of Wooden life-size elephants and off to the left another smaller herd. They are amazing (only in London). Obviously, I stop to take some photos and even am asked to take a tourists photo with their camera. At the Buckingham Palace (Victoria Memorial) exit is a news cameraman with a reporter and the interviewee looking grand wearing an orange turban and traditional dress. he was probably Sikh.
Now, I walk along the Mall and cross it into St James Park. In the distance is a band playing so I head in that direction, they are rehearsing, playing the same piece several times. I sit and listen for a while. The band is in fact the Guards and I am sitting opposite the Wellington Barracks on Birdcage Walk. There are more elephants in smaller groups lone individuals. Having heard the same music a few times! I move on back into St James Park. It is time for ice cream. £3.00 for a small cone! no cash taken only card. The ice cream is nice and I give much of the cone to the very friendly geese, of course. Now, a surprise, Pelicans in St James Park. In fact, they are resident and get fed each day by the wardens. There is more wildlife here than in Northampton, exotic ducks, Heron, Geese, Starlings, Blackbirds, Squirrels and of course Pigeons.
Finally, I need the toilet, guess what? 20p to enter and only cards, no cash. A pattern to be repeated throughout the day. I am now over 6 kilometers into the walk.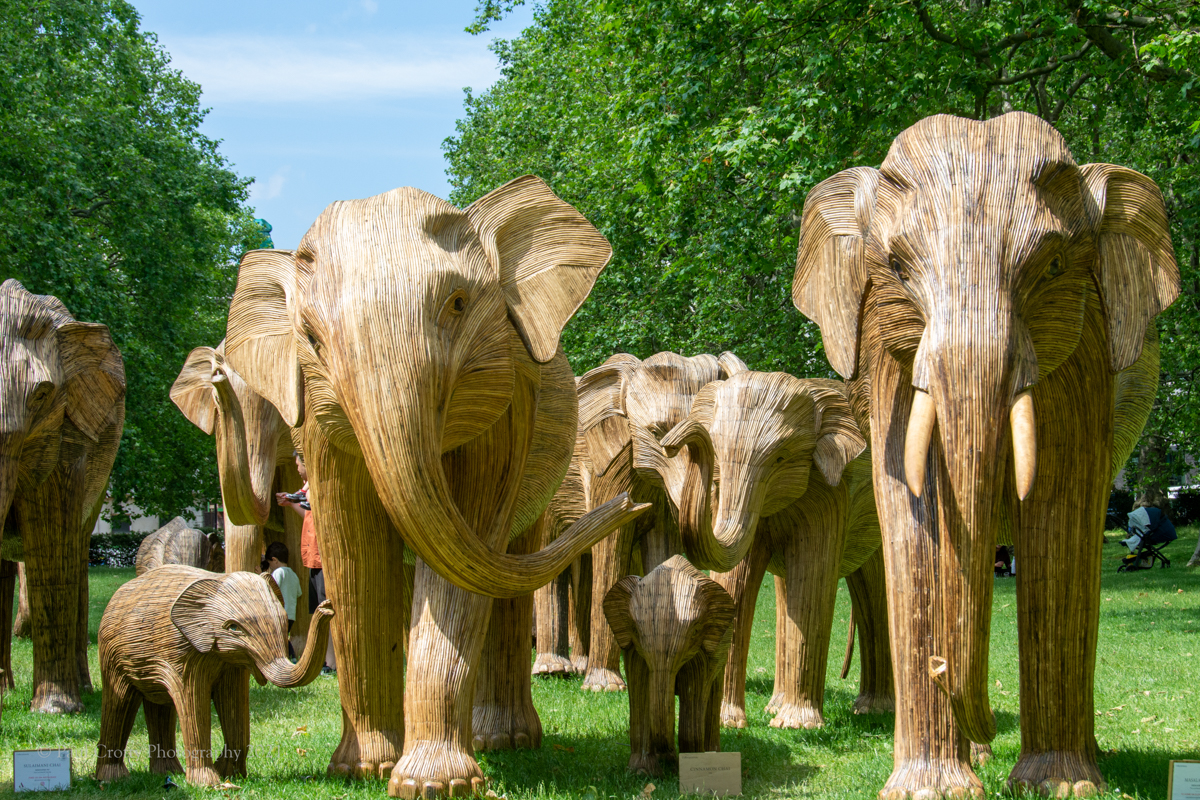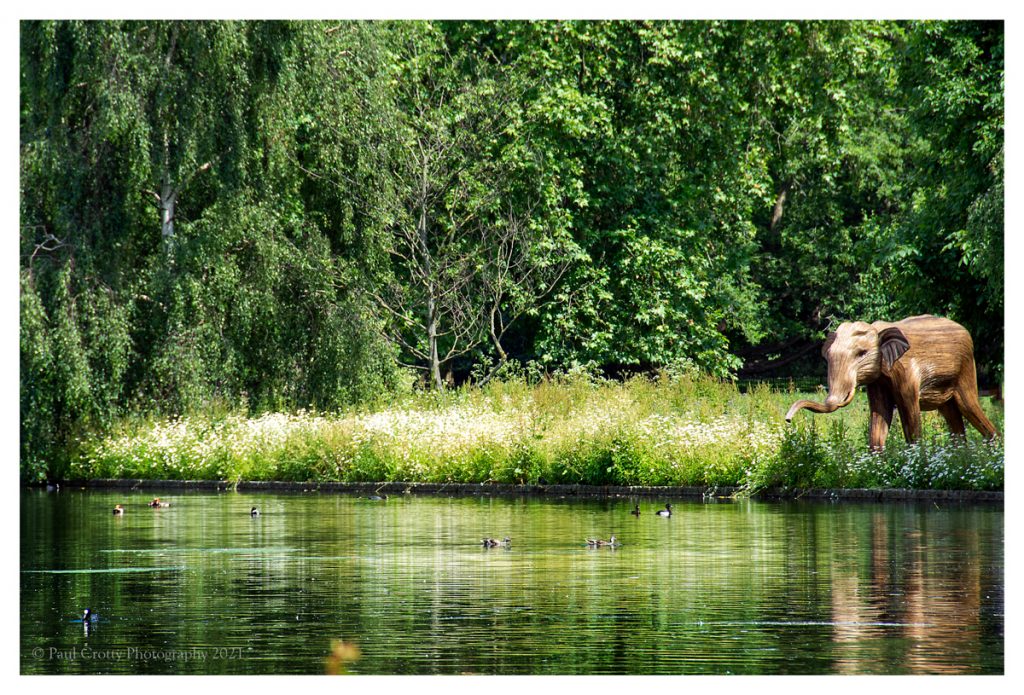 Click the images to view large.
A herd of life-sized sculptures of elephants have arrived in London, and are on display ahead of being sold for charity.

Each of the 100 Asian elephants was made by communities in the Nilgiri Hills of Southern India where they coexist in denser populations than anywhere else in the world.

The sculptures have been crafted from Lantana camara, a plant introduced to Asia where it has become a notorious weed; toxic to grazing animals and outcompeting native species leading to a reduction in biodiversity.

Chopping down a toxic weed is now able to be a fundraiser for wildlife.

They're now on a global tour, which has stopped in London for a few weeks.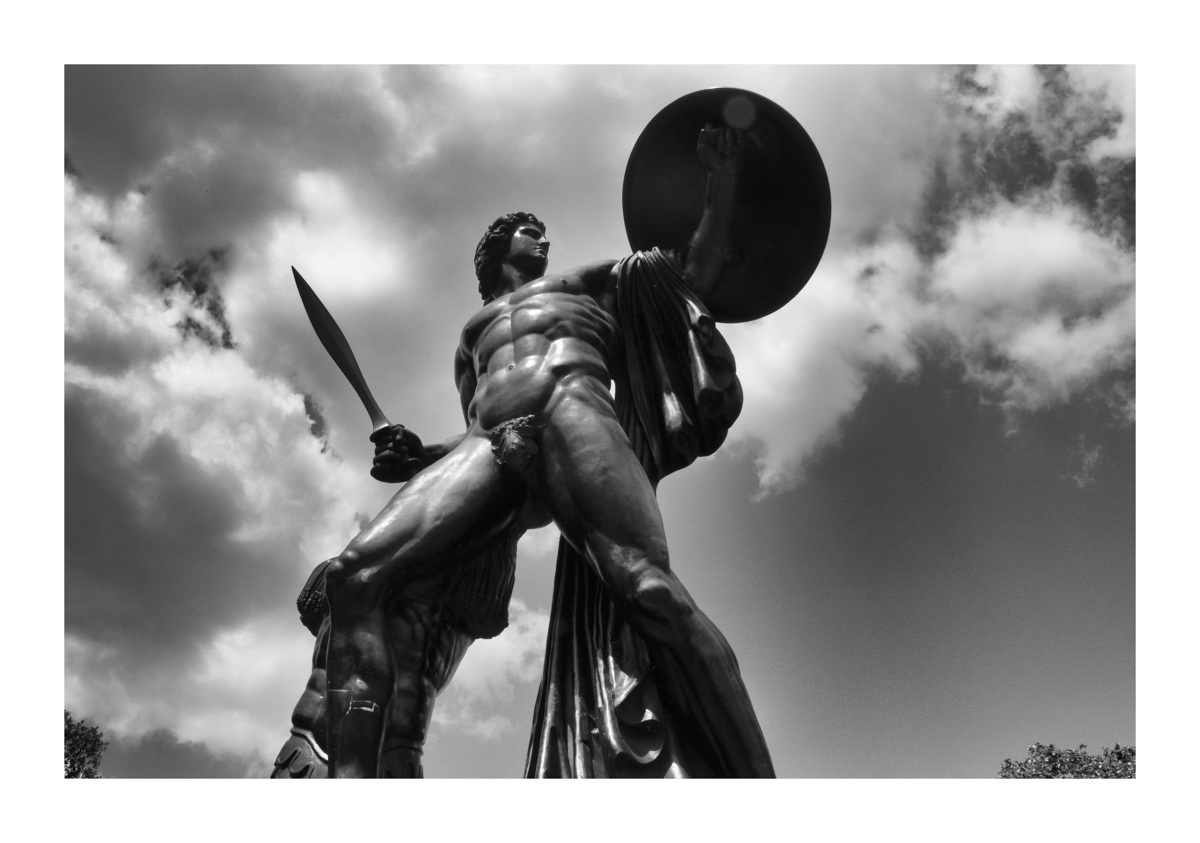 The 18ft statue of Achilles, the Greek hero of the Trojan War, commemorates the soldier and politician, Arthur Wellesley, 1st Duke of Wellington (1769-1852). It was installed by order of King George III and unveiled on 18 June 1822. Located near the Queen Elizabeth Gate at Hyde Park Corner, the statue of Achilles was the first statue installed in Hyde Park and was commissioned by a patriotic, upper-class society, known as Ladies of England. The statue was made by Sir Richard Westmacott using 33 tonnes of bronze from cannons captured in Wellington's campaigns in France. The body of the statue is modelled on a Roman figure on Monte Cavallo in Italy. The head is based on the Duke himself.  The statue was originally completely nude and caused outrage so a small fig leaf had to be added soon after it was installed.
Source:     https://www.royalparks.org.uk/parks/hyde-park/things-to-see-and-do/memorials,-fountains-and-statues/statue-of-achilles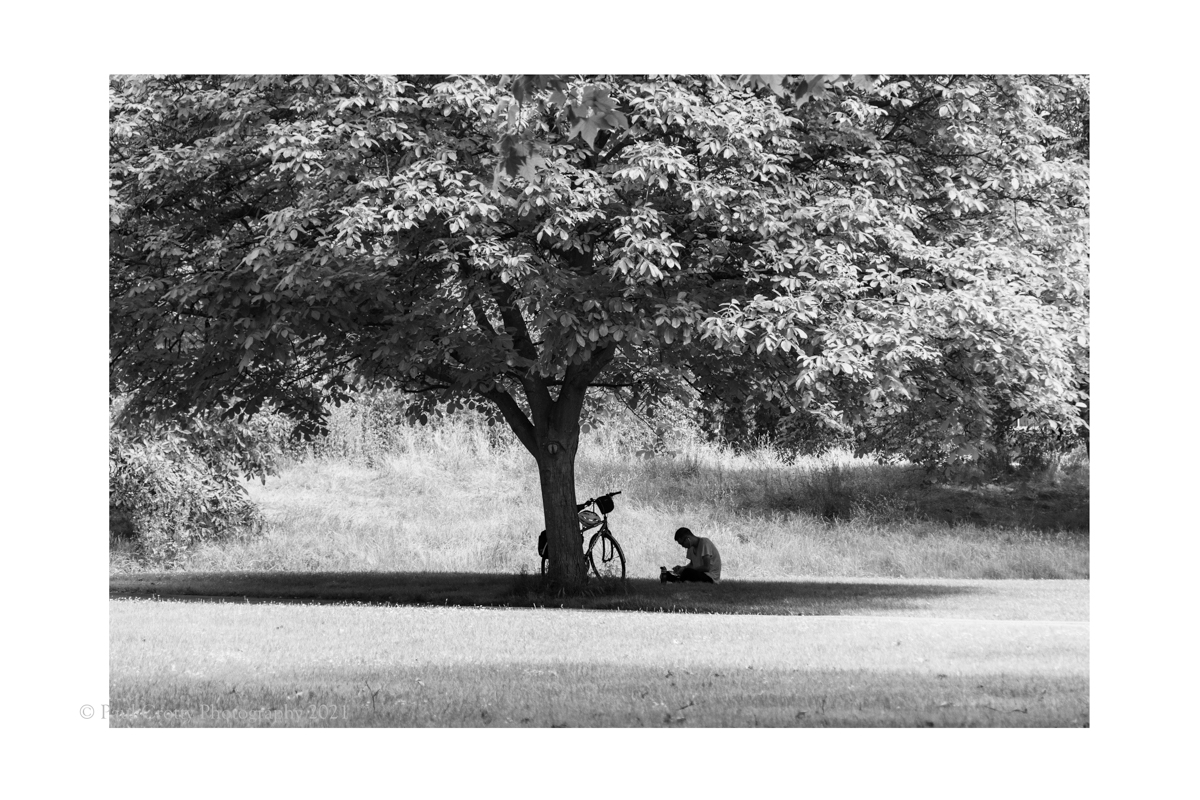 I exit St James Park and make my way to Trafalgar Square to get to a Costa in Charing Cross on the Embankment. One American later I quickly take a few shots of the city skyline and move back up to the Strand to walk towards Covent Garden. Another of my old haunts (Joe Allens) is closed. After some meandering about I get to Covent Garden Tube Station thinking I may go to the City area. In the end, I decide not to and walk out of Covent Garden into China Town, which is very busy, surprisingly with Chinese people! The streets are full of colour and outdoor dining. It is about 4pm now. I leave China Town and head for Wardour Street Soho. One of the few shops with a queue to get in is Supreme which sells skateboards and clothing. At the top of Wardour Street turn right onto Oxford Street and head towards Tottenham Court Road. Walk up Tottenham Court Road. Time to stop for a drink and settle in a pub Spain are playing Slovakia so watch some football whilst I have a cider (very refreshing) or two!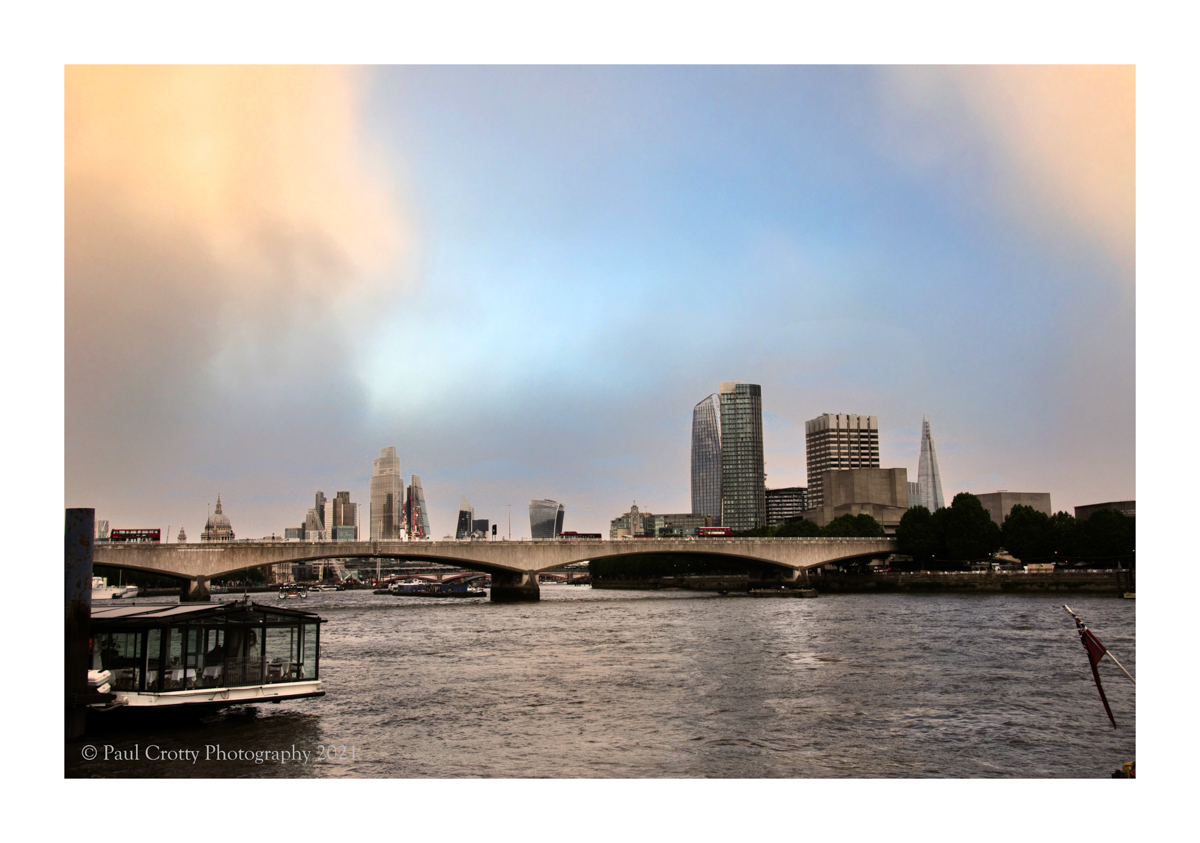 View from the Embankment
Sky added in Photoshop!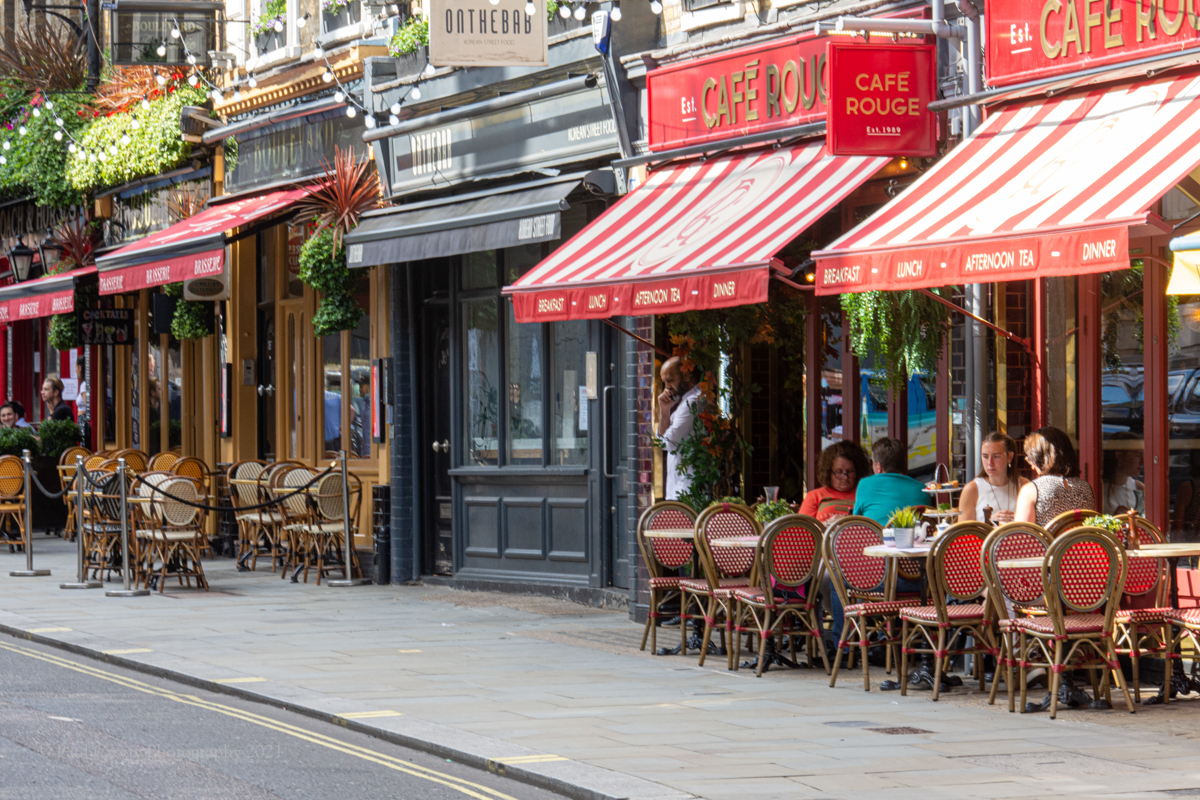 Covent Garden.
These Restaurants would be very busy at this time of day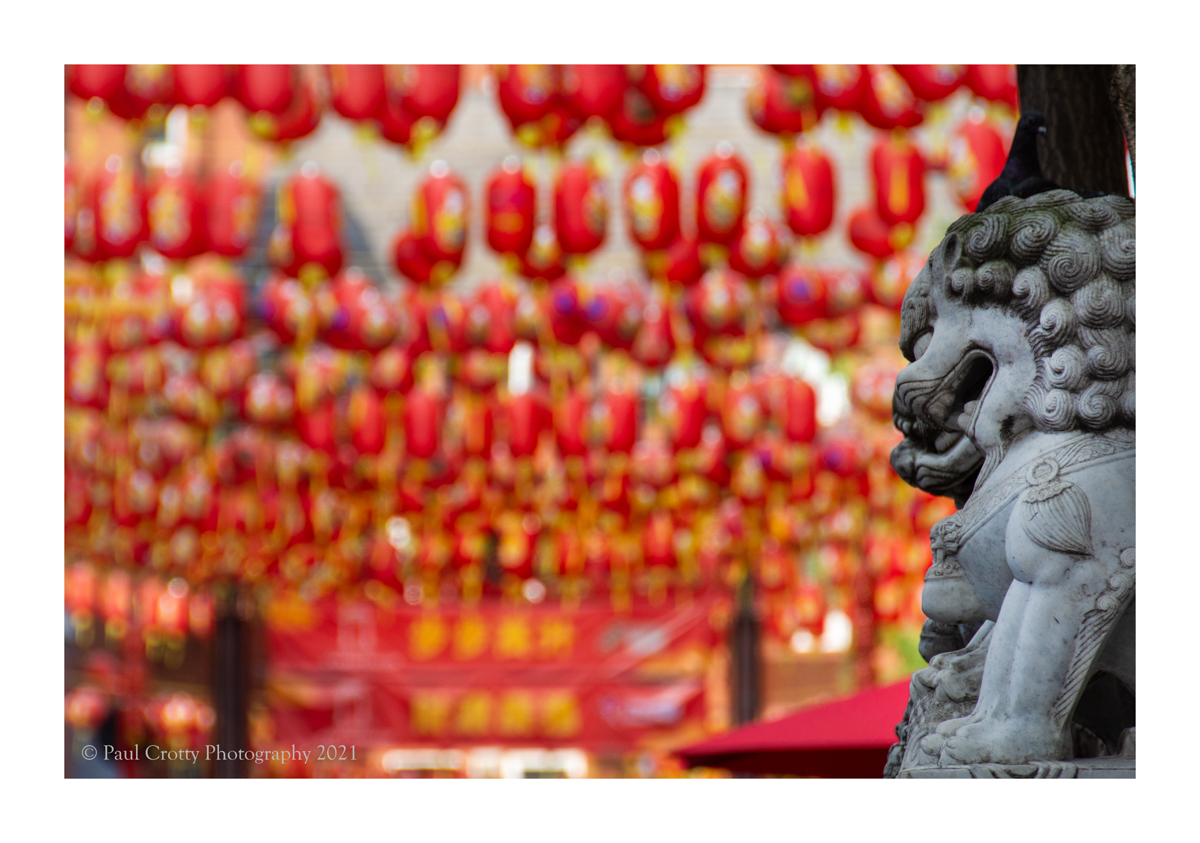 Amazingly it is time to catch my train so head back to Euston to catch the 8.13pm to Birmingham which stops at Northampton. This train is full but not overcrowded.
Once in Northampton, I decide to take a taxi rather than wait for a bus.
What a great day. I walked over 26,000 steps and covered about 20 kilometres. (13 miles)
All that is left to do is edit the photos tomorrow.
It is noticeable that the Office based workers are not back in London yet. If they return may well determine the feel of London, so many businesses rely on the working population who by and large commute into the city.