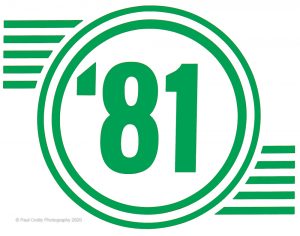 '81 The Original Diner – Hamburger Heaven
Memories of 1971 and the opening of Buddies in 1981
Out of the ashes of the chain of restaurants called Buddies USA Diners came '81. Buddies USA Diners was sold to a local Northamptonshire company that immediately changed the menu! and the quality of service. Inevitably the customers voted with their feet and a downhill spiral began. Then, along came the Pandemic known as Covid 19. The new owners of Buddies had already closed some of the outlets and the forced closure through the government lockdowns probably sealed the fate of the once busy and popular chain of 9 restaurants. However, all was not lost it seems.
A situation arose that allowed/required the original owner to open a new version of the Buddies concept called '81' The Original Diner' in the Grange Park building. From day one the decision was made to go back to the roots of Buddies and provide high-quality food whilst trying to keep the prices reasonable. The team from the original Buddies got to work and within a few months '81 was born (again!).
It all started  here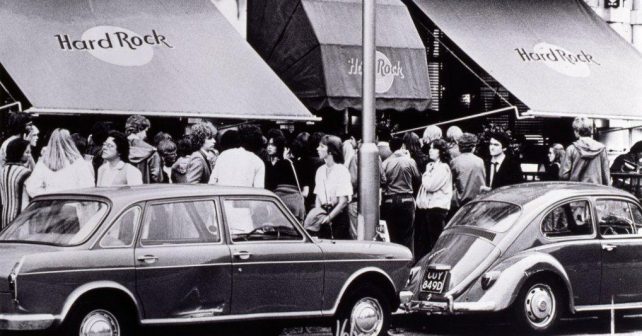 in 1971 when a friend (me) moved to London, to work for the Inner London Education Authority. My then-partner was at college in London (St Martins School of Fashion and Design), her friend announced that she had a job in a new restaurant opening, that being The Hard Rock Cafe. (June 14, 1971, at Old Park Lane, Mayfair, London, under the ownership of two Americans, Isaac Tigrett and Peter Morton). My partner worked at Tiddy Dols (not a spelling mistake) a then famous restaurant in the Mayfair area. This became an area we socialised in before or after they worked. My partner regularly served Sir Cliff Richard!
The friend (June) invited us to try The Hard Rock Cafe and we did within the 1st few weeks of its opening. It was fantastic like nothing seen before in the UK. Remember in those days we had Wimpy's and not much else. In a short time, the Hard Rock had become very popular helped by the fact that Rock Stars were regularly using the diner. It was inevitable because it was so popular that at most times of the day you had to queue to be seated. However, I came to know the doormen/managers and they would allow some people to go to the bar and wait to be seated there. Hence you sort of jumped the queue, because you were prepared to spend money at the bar. In fact, you may have spent an hour or two at the bar before you went to a table.
I told my friend here in Northampton that he should visit this new diner and loved it. 10 years later, in 1981, Buddies in Dychurch Lane was opened. Initially, there were three partners in the business but over time that reduced to just one. At the time there was only one other restaurant anything close to Buddies, called Cagney's, situated in College Street. Quite good in its own way. Of course in Abington Street, there was a Wimpy's. Burger King, McDonald's (opened in Woolwich 1974) and other chains like them were just beginning to appear in the provinces.
During a lunch break when I was working in London I designed the original logo for Buddies which if you can remember those early days it was Painted on the side of the Dychurch Lane building (The Old Mission School). Eventually, Buddies became Northampton's 'Hard Rock' and on many nights you needed to queue to get in. Just before selling the chain Buddies comprised of 9 restaurants. It has been said and written that Buddies was just like being in America especially the food and in particular the burgers. having been to the USA myself several times I can agree the burgers of what was the original Buddies tasted like ones you may get in a Diner in New York. In '81, they are even better!  Buddies also became famous for it's music mixes, which were changed very regularly to keep the atmosphere fresh (there is nothing worse than hearing the same old music every time you visit a restaurant).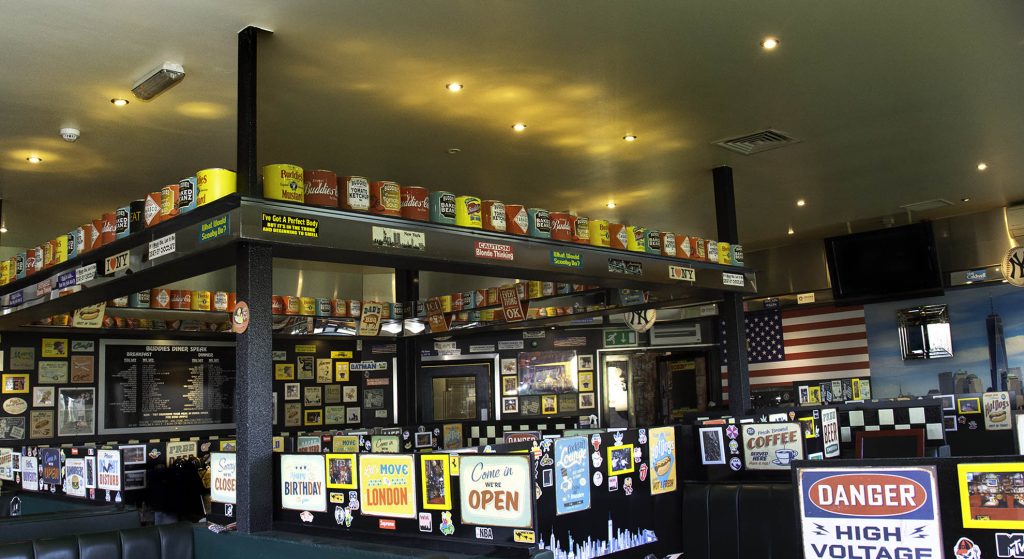 Now, in '81, you find a modern version of the concept. Unfortunately, its opening coincided with this pandemic. It had a short spell of being open to seated dining inside and the signs were excellent, it was very busy and more importantly, the reviews were very good. Through the pandemic 81′ has provided takeaway meals, also getting rave reviews, and will continue to do so beyond the lockdown.
So what is 81′ like now?
Importantly the key members of the talented original team that developed Buddies over the years are very much still involved daily, they have even been able to bring back some of the original staff.
Old favourites are back on the menu and cooked just the way they were at the beginning. Some items are made from scratch in our kitchens almost daily especially our famous Chilli con Carne and Coleslaw (Slaw).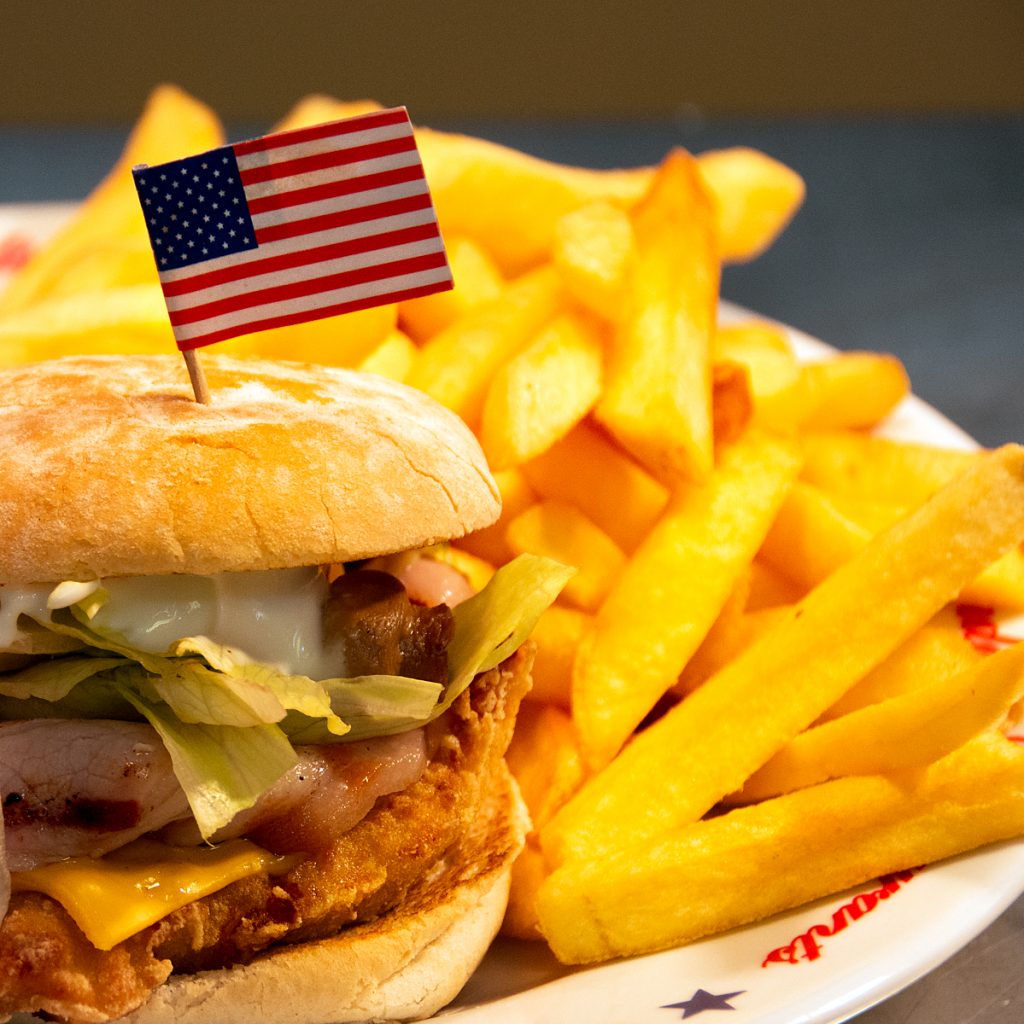 'How do you like your eggs in the morning?'  Once '81 is fully open again the day starts with breakfast Eggs Benedict being a favourite as is the All-day Breakfast (yes you can have it a night if you wish). Breakfast flows into Lunch and from the lunch menu Ham 'n Eggs, Corn Beef Hash or Chilli are staples.
You can of course go from the main menus which including Hamburger Heaven are back to their former glory. Starters! Has to be a Mount Nachos to share or a Yankee (a true original) old main favourites include Club Sandwich, BLT, New York Mix or Chilli Con Carne. The burgers have become even better ('81s own mix made entirely for them) including Sloppy Joe, Blues Bros. Schwarzenegger or just good old Plain Jane. What is your favourite? Many customers prefer salad (rabbit food), Chefs or a Caesar being very popular.
The Kids Menu is still available and still offers a wide choice of smaller kids size portions.
Sweet tooth? you have to have an '81 dessert. Ice Cream Bowlful, Mars in the Stars, Knickerbocker Glory or Silver Dollar Pancakes are a few old-time favourites.
Takeaways will still be available even after the end of the lockdown. As I write this, an outside covered area is being built and a new Picnic or kerbside dining innovation.
Diners pre-sale 2019.
The Original – Dychurch Lane
Sixfields – Sixfields Northampton
Grange Park – A45
Towcester – A43
Daventry – High St.
Rushden – A45
Acre Lane – Kingsthorpe
Old Stratford – MK
Hockliffe – A5
Other Buddies related Restaurants:
Joes Diner – Abington St. (Now Nouvo)
The L.A. Cafe – Castillian St.
The Blue Plate Cafe – The Ridings
Grand Central – St Giles St.
More reading about Buddies history
https://www.northamptonchron.co.uk/lifestyle/food-and-drink/reaction-has-been-fantastic-former-buddies-founder-opens-new-breakfast-lunch-and-dinner-diner-northampton-3067451
https://www.northamptonchron.co.uk/heritage-and-retro/retro/remember-fond-times-buddies-cafe-northampton-look-back-through-archive-photos-3008402
https://www.northamptonchron.co.uk/heritage-and-retro/retro/im-distraught-fond-tributes-pour-remember-northampton-town-centres-longest-standing-restaurant-buddies-usa-2994651